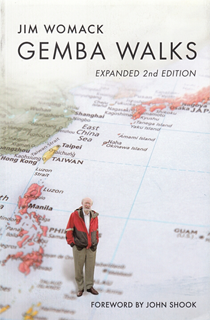 Gemba Walks is Jim Womacks newest book, a collection of letters and essays. It is also available as an e-book from Apple, Amazon or Amazon.co.uk or Amazon.de, Barnes & Noble, and Google.
     "The life of lean is experiments. All authority for any sensei flows from experiments on the gemba [the place where work takes place], not from dogmatic interpretations of sacred texts or the few degrees of separation from the founders of the movement. In short, lean is not a religion but a daily practice of conducting experiments and accumulating knowledge."
      So writes Jim Womack, who over the past 30 years has developed a method of going to visit the gemba at countless companies and keenly observing how people work together to create value. Over the past decade, he has shared his thoughts and discoveries from these visits with the Lean Community through a monthly letter. With Gemba Walks, Womack has selected and re-organized his key letters, as well as written new material providing additional context.
      Gemba Walks shares his insights on topics ranging from the application of specific tools, to the role of management in sustaining lean, as well as the long-term prospects for this fundamental new way of creating value. Reading this book will reveal to readers a range of lean principles, as well as the basis for the critical lean practice of: go see, ask why, and show respect.
      Womack explains:
      why companies need fewer heroes and more farmers (who work daily to improve the processes and systems needed for perfect work and who take the time and effort to produce long-term improvement)
how "good" people who work in "bad" processes become as "bad" as the process itself
how the real practice of showing respect comes down to helping workers frame and solve their own problems
how the short-term gains from lean tools can be translated to enduring change from lean management.
how the lean manager has a "restless desire to continually rethink the organization's problems, probe their root causes, and lead experiments to test the best currently known countermeasures"
By sharing his personal path of discovery, Womack sheds new light on the continued adoption and development of the most important new business system of the past fifty years. His journey will provide courage and inspiration for every lean practitioner today.
About the Author:
Jim Womack
Management expert James P. Womack, Ph.D., is the founder of and senior advisor to the Lean Enterprise Institute, Inc., a nonprofit training, publishing, conference, and management research company chartered in August 1997 to advance a set of ideas known as lean production and lean thinking, based initially on Toyota's business system and now being extended to an entire lean management system.
Womack is also the co-author of Machine That Changed the World, Lean Thinking, Lean Solutions, and the LEI workbook Seeing the Whole. He received a B.A. in political science from the University of Chicago in 1970, a masters degree in transportation systems from Harvard in 1975, and a Ph.D. in political science from MIT in 1982. As research director of MIT's International Motor Vehicle Program, Womack led the research team that coined the term "lean production" to describe the Toyota Production System.
Womack served as the Institutes chairman and CEO from 1997 until 2010 when he was succeeded by John Shook