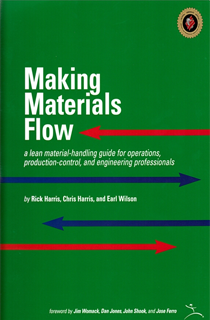 Making Materials Flow
作者:Rick Harris,Chris Harris & Earl Wilson
译者:
The Making Materials Flow workbook from the Lean Enterprise Institute (LEI) shows manufacturing professionals in operations, production control, and industrial engineering how to replace material-handling systems designed for mass production with systems that support lean production.
     "Companies are making progress in creating areas of continuous flow as more managers learn about value-stream mapping and continuous-flow cells," said Rick Harris, co-author of the new Making Materials Flow workbook. "But as I walk through facilities and examine earnest efforts to create continuous flow, I see how hard it is to sustain steady output. The problem often is the lack of a lean material-handling system for purchased parts to support continuous-flow cells, small-batch processing, and traditional assembly lines."
     Making Materials Flow uses plain language and illustrations to explain how to create, sustain, and improve a lean material-handling system for purchased parts. It is designed to stop the erratic output, wasted time, excess costs, and exhausting human effort caused by trying to supply lean production processes with traditional material-handling systems.
     Making Materials Flow, which received a 2005 Shingo Research Prize, shows you how to apply the relevant concepts and methods in a step-by-step progression. The workbook reveals the exercises, formulas, standards, and forms that a consultant would use to implement the system in your environment. And, like LEI's other workbooks, Making Materials Flow answers the key question managers often have about lean tools and concepts, "What do I do on Monday morning to implement this?"
The key implementation steps detailed in the workbook include:
·Developing the Plan For Every Part (PFEP). This basic database fosters accurate and controlled inventory reduction and is the foundation for the continuous improvement of a facility's material-handling system.
·Building the purchased-parts market. Learn the formulas and methods to size and operate a market that eliminates the waste of hoarding, searching for parts, and storing inventory throughout a facility.
·Designing delivery routes. You get the principles and calculations that turn a sprawling, messy plant into an organized community where operators get the parts they need, when needed, and in the quantity needed, delivered right to their fingertips    ·Proper delivery routes not only improve inventory and flow but also safety and housekeeping.
·Implementing pull signals. Learn four steps to creating a system that keeps inventory under control by allowing operators to pull just what they need while focusing on producing value for customers. You'll also lean how to calculate the number of pull signals needed and how often to deliver material.
·Continuously improving the system. Systematically pursue perfection by implementing periodic audits of the material-handling system across all levels from route operator to plant manager. You'll learn the five-step process for introducing audits of the market, routes, and pull signals by a cross-functional team from production control, operations, and industrial engineering.
Harris and co-authors Chris Harris and Earl Wilson break down the implementation process by leading you through 10 simple but pragmatic questions:
The Plan For Every Part (PFEP)
1.What information should you include in the PFEP?
2.How will you maintain the integrity of the PFEP?
Developing a Purchased-Parts Market
1.Where do you locate your purchased-parts market?
2.What is the correct size for your purchased parts market, and what is the correct amount of each part to hold in the market?
3.How do you operate your purchased-parts market?
Designing the Delivery Route and the Information Management System
1.How do you convey parts from the purchased-parts market to the production areas?
2.How do your production areas signal the purchased-parts market what to deliver and when?
3.How do you fill the delivery route?
Sustaining and Improving
1.How can you sustain the performance of your lean material-handling system?
2.How can you identify and remove additional waste?
An appendix explores how to adapt the principles of lean material-handling to different environments, such as incorporating work-in-process (WIP) markets into the system, adding delivery routes from production cells to a finished-goods market, and applying the system to low-volume, high-mix processes.
     Making Materials Flow will help lean leaders, managers, and executives in production control, operations, and engineering who have at least a basic knowledge of lean concepts such as value-stream mapping, cell design, and standard work. For information on the Making Materials Flow workshop, click on the Training tab above.