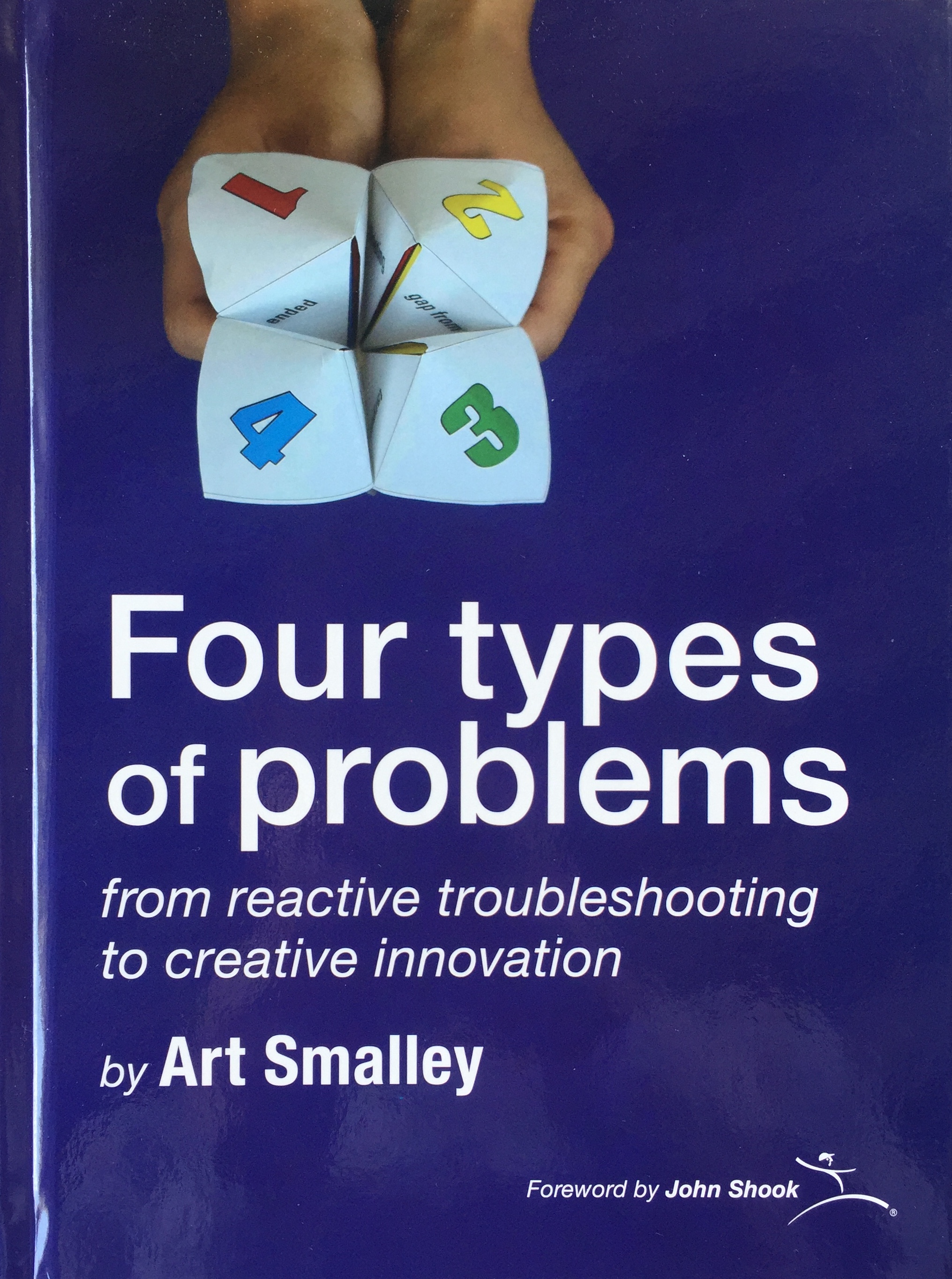 When faced with problems many business leaders and teams reach for familiar and standard problem-solving methods, often creating unnecessary struggle, frustration, delay, and ineffectiveness in solving the problem — if it is ever solved at all! In other words, they keep reaching for the same old hammer as if every business problem were a nail.
In Four Types of Problems, continuous improvement expert and author Art Smalley shows you how to break the "hammer-and-nail" trap. He demonstrates that most business problems fall into four main categories:
Troubleshooting:

 

A reactive process of rapidly fixing abnormal conditions by returning things to immediately known standards.
Gap-from-standard:

 

A structured problem-solving process that aims more at the root cause through problem definition, goal setting, analysis, countermeasure implementation, checks, standards, and follow-up activities.
Target-state:

 

Continuous improvement (kaizen) that goes beyond existing levels of performance to achieve new and better standards or conditions.
Open-ended and Innovation:

 

Unrestricted pursuit through creativity and synthesis of a vision or ideal condition that entail radical improvements and unexpected products, processes, systems, or value for the customer beyond current levels.
"Organizations and individuals at all levels fall into the trap of having one primary or standard way of solving every problem," writes Smalley, who learned problem solving from Tomoo Harada at Toyota's historic Kamigo engine plant. Harada led the maintenance activities that created the stability needed for Taiichi Ohno's innovations in the Toyota Production System.
Each type of problem category requires different thought processes, improvement methods, and management cadences. Each type has its own sub-system and surfacing mechanism, management cadence, timing, and difficulty level, he explained. One size does not fit all situations and just training people in tools or techniques only scratches the surface of problem solving.
In Four Types of Problems you'll learn:
4 types of problem-solving approaches that are effective against virtually every business problem;
How to advance from treating "abnormal conditions" to more robust problem-solving routines that develop people and create a more diverse continuous improvement culture;
When and how to use each type with real-world examples;
The strengths and limitation of each problem-solving type;
The right sub-system for each type;
The importance of timing and cadence for each routine;
The 3 main kinds of countermeasures and when to use each;
How to use the 4 Cs of Problem Solving for Type 1 or troubleshooting;
The critical role of frontline supervisors in troubleshooting;
2 conditions calling for Type 2 — gap from standard — problem solving;
7 basic steps of Type 2 problem solving, including key points for each step;
What sets Type 3 problem solving apart from Types 1 and 2;
Why Type 3 thinking is possible for any activity – manufacturing, services, healthcare, logistics, government, etc.;
Experts' perspectives on the modern Type 4 problem-solving approaches of Design Thinking and Set-Based Innovation;
Type 4 innovation checklist;
6 cross-cutting themes shared by all types of problem solving;
Review questions after each chapter to assess your understanding;
How to assess a company's capabilities in all four types at four different levels of proficiency;
The thinking and logic behind key tools for continuous improvement;
60+ illustrations to reinforce key points and lessons!